Who doesn't love a wallet? No, I want to rephrase that… who doesn't need a wallet? And I'm not only talking about guys because they're always carrying their lives in their wallets. I'm talking about how important is a wallet for us girls. Have you ever think about it? I don't know about you, but I never leave the house without my purse, and one of the things that I always carry with me is my wallet. It contains my documents, my money, my card… how can you go out without all that?
All those things are basically vital when we hit the streets, and that's why need to count on a great wallet. Because here is where we have a common point with the boys: we need a wallet that has good quality, that's more important than size or colors. But of course, we girls need other things as well. A very nice-looking wallet, which has beautiful colors but that also looks cute, classic and chic. We've gathered the best options for you to choose, from small to big ones, to colorful. Check them out:
Michael Kors Women's Jet Set Zip Around Continental Wallet
View Product on Amazon.com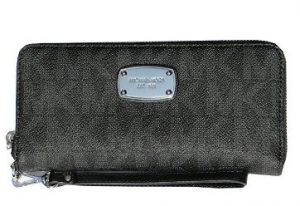 If there is one name that we immediately associate with affordable leather goods, that's Michael Kors. This designer, who calls himself a representative to the 'true American sportswear', has also made a great creating a universe of leather goods: handbags, night purses, wallets, you name it. And the logo of the brand has become an icon, so much like you'd say about (keeping the proportions in place) a Louis Vuitton or a Coach. This specific model features a large size, wrapped in brown monogram print with PVC golden tone hardware. It has a zip in gold tone plate on the front with round corners. If you think you can only get leather on the outside, you're wrong: the interior features leather and logo like card slots and a clear ID slot, as well as a coin pocket and 6 full-length bill compartments. Measures are approximately 8.25″ (L) x 3.75″ (H) x 1.25″ (W) and have a removable wristlet strap.

Kate Spade New York Cameron Street Stacy Wallet
View Product on Amazon.com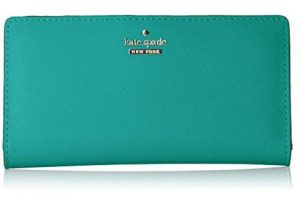 If you're not so much into prints, you're probably looking for a wallet that you can use for the years to come, not paying much attention to trends. Kate Spade, another expert brand on leather goods, has the solution for you. This model has been in the market for a few years now and it's a costumer's favorite, mostly because of its classic design and wide variety of colors. It's also 100% leather, which will guarantee you a purchase for a long time. Unlike others, it features a snap closure, something a lot of people will find practical. The lining is made out of polyester, and those girls who like things a bit more organized will enjoy the pockets: 4 interior slips, 1 exterior, 1 ID window and 12 card slots.

Fossil Emma Rfid Tab Wallet-navy Floral Wallet
View Product on Amazon.com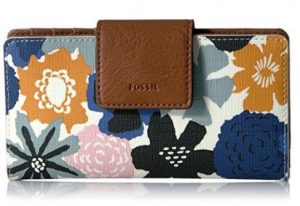 We know Fossil as a not-so-affordable Brand, but they surprised us with this beautifully printed wallet that keeps things nice to your pocket. The main material on this one is PVC, but you don't have to worry about this one, in particular, looking chic because the features help it looking as good as any of the other products of the brand. This 3.75" high and 6.75" wide wallet features a synthetic lining and also a snap closure, taking a step from the zipper family. Pockets? You have plenty to choose from: 4 interior slips, 1 exterior, 1 ID window and 12 card slots. Pretty good and pretty cute.

Calvin Klein Key Item Small Flap Monogram Wallet
View Product on Amazon.com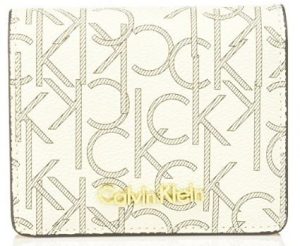 Monograms are a really big part of the fashion culture as we know it. I might not be a huge fan, but there's certain attractive about telling people you love a brand and you're willing to prove your love by wearing something that will make you stand out from the crowd. And that's exactly what this Calvin Klein wallet does for you. First of all, it is a more practical size that will fit on most of your clutches, which means one less thing to worry about. This monogram piece is polyester made, and it also has a snap closure. It features the special Calvin Klein key item small flap, and maybe it has fewer pockets, but it will be useful for all the simple gals out there.

Vera Bradley Accordion Wallet
View Product on Amazon.com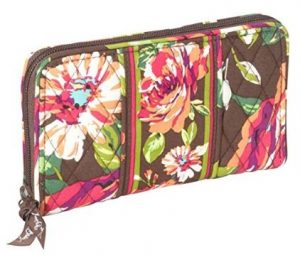 But maybe you're not a fan of the classics. You're more someone who enjoys trends and also enjoys the possibility of change on a daily basis. And that's what you get with this model specifically. This wallet is not made out of leather, but you will certainly enjoy the wide range of colors that you can find for it. For the price that you normally get one wallet from another brand, you'll get two Vera Bradley's and have the opportunity of switching within the week. Whatever model you choose, you'll get excellent features, like three gusseted compartments that create an accordion-style look when they're open, a zip-around closure and a great number of pockets, like 14 card slots and a bill pocket.

Betsey Johnson Boxed Quilted Bow Zip Around Continental Wallet
View Product on Amazon.com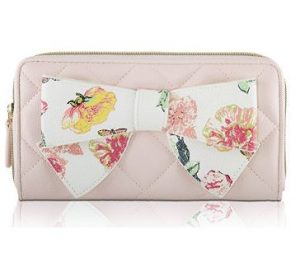 But if you want to get something that stands out to the eye and is also very affordable, you'll go with this Betsey Johnson option. This designer has a reputation for being bold, and what's bolder than a big bow on your wallet? This model is a great choice for our eco-fashionistas out there because its biggest fabric is faux leather. It also features a zip closure and also, a zip around compartment and the one that caught our eye, a big scalloped layered glitter bow. The interior I metallic gold and you will get 8 credit card slots, as well as 2 currency pockets, with a center divided with a coin zip pocket and an ID window. One of the best things about this wallet? When you order it, you'll get it in the signature gift box package, a treat for any fashion lover.

Aldo CHOCTAW Wallet
View Product on Amazon.com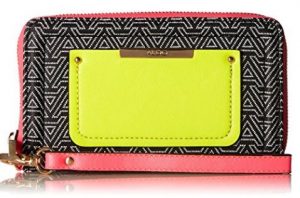 Again, not everyone has the chance of getting a leather wallet, but that doesn't mean there are not affordable and cute-looking options out there for those girls who have to keep on a budget. ALDO make a nice work putting together a colorful, good-looking, practical wallet that will suit your needs for half of the price. This model is made out of 100% polyurethane and features a 100% polyester lining. Like many of its competitors, it's a long wallet with a zipper closure, but one of the most attractive things about it is the combination of bright colors, which really pops to the eye. In the interior, you'll find 2 slips, 1 exterior slip, and 3 card slots.

Kenneth Cole Reaction Womens Tab Utility Clutch Wallet w/ Mirror
View Product on Amazon.com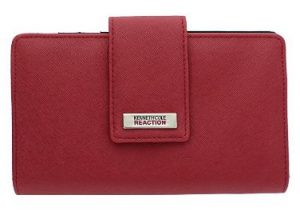 Yes, we do love bold printed options for our wallet, but there´s also that moment in life when we start noticing the need of something more classical, formal… if you want to say it that way. Kenneth Cole Reaction, the affordable line of Kenneth Cole, has been doing a great work with purses and wallets with synthetic materials, good looking features, and great price tags, This wallet alone is faux leather and it has the classic zip closure we like. It also has the snap tab closure, for a double sense of security, something everyone would be thankful for. This model has 12 card slots and 3 slip pockets, as well as 3 zip compartments, and you can choose from over 10 colors.

Michael Michael Kors Mk Jet Set Travel Leather Continental Wallet
View Product on Amazon.com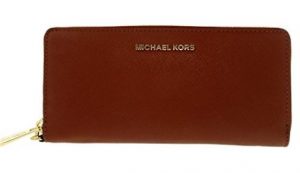 And then we go back to Michael Kors, with a model everyone out there should have in mind when It comes to making a great impression. The Jet Set wallet is part of a set that also has a very classic handbag to match with, and you guessed it, it comes in over 12 colors. It's made out of Saffiano cow leather, and depending on the color you can have silver or gold hardware. With this model, you will get 4 interior slit pockets, 8 interior card slots, and interior checkbook holder with ID slot. Besides that, you can have magnetic fastening and a fully lined interior.

Liebeskind Berlin Gianna Wallet
View Product on Amazon.com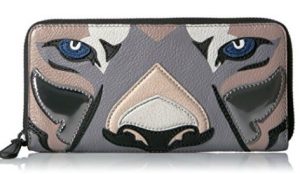 Yes, we're in love with big wallets. They might not be the most practical to carry in your clutch, but I'm going to tell you a little secret: if you're able to go out clubbing with only a lipstick and your phone, you can fit those on a wallet like this and get yourself another clutch. Because let's face it, a beautiful print and details like these do not deserve the bottom of your purse. The world needs to see it. This Liebeskind model is 100% cow leather, and it has great features such as zipper closure and a textile lining. This is the model you want to get if, like me, you're the girl with a million cards, because you'll have 5 interior slip pocket, 1 interior zip, 1 ID window and 16 card slots. Yes, you got that right… sixteen!